Shopping Cart
Your Cart is Empty
Thank you for your business!
You should be receiving an order confirmation from Paypal shortly.
Exit Shopping Cart
Physical Agility Test (Biddle)

General Description:
The Los Angeles County and Orange County Fire Chief's Physical Ability Test is designed to examine the physical ability of the individual when it comes to performing the functions or tasks of a Firefighter. The test is composed of 11 different events in which the candidates must pass in a time of 9 minutes and 34 seconds or less. See below for additional information.
Second Saturday of the month or Specific Assigned Test Date
0630 or 1230 Hours
Candidates should expect the test to take 5 hours.
Rio Hondo Fire Academy: 11400 Greenstone Avenue, Santa Fe Springs, CA 90670
$40 Cash (exact change please) or Check payable to Rio Hondo College.
Payment is due at time of testing.
If you are currently under isolation or quarantine
due to exposure to COVID-19, PLEASE STAY HOME!
Bring your photo ID. Workout clothing and athletic shoes are recommended.

All candidates will be screened, temperatures checked, and procedural waivers

signed and submitted.

All candidates MUST bring/have their own face mask.

Candidates are required to wear a Turnout coat, Firefighting helmet, Structure gloves,

and an SCBA. Rio Hondo Fire Academy will provide the required equipment., however

candidates are allowed to utilize their own equipment.

Rio Hondo College reserves the right to inspect all equipment that candidates bring,

in order to ensure it meets Biddle standards.
Detailed Description:
PASSING TIME: 9 minutes and 34 seconds or less
EVENT 1 - DRY HOSE DEPLOYMENT
Candidate advances 150-feet of 1.75-inch dry hose with nozzle, around two obstacles.
EVENT 2 - CHARGED HOSE DEPLOYMENT
Candidate advances charged 1.75-inch hose with nozzle, 70-feet, 32-feet of the hose deployment involves stooping or crawling while advancing the hose into a narrowing hallway.
EVENT 3 - HALYARD RAISE
Candidate raises and lowers the fly section of a 35-foot aluminum extension ladder one time.
EVENT 4 - ROOF WALK
Candidate ascends and descends a 14-foot ladder attached to a simulated-pitched roof with a chain saw in his or her hand.
EVENT 5 - ATTIC CRAWL
Candidate crawls a distance of 20-feet across a simulated attic-joist floor, while carrying a simulated flashlight in his or her hand.
EVENT 6 - ROOF VENTILATION
Candidate stands on a simulated-pitched roof and strikes a padded area 30 times with an 8-pound sledgehammer.
EVENT 7 - VICTIM REMOVAL
Candidate carries or drags a 154-pound dummy around two obstacles 13 feet apart.
EVENT 8 - LADDER REMOVAL / CARRY
Candidate removes a 24 foot aluminum extension ladder from mounting bracket, carries the ladder around a diamond shaped course 54 feet long and replaces the ladder back on the mounting brackets.
EVENT 9 - STAIR CLIMB WITH HOSE PACK
Candidate ascends to the 4th floor of the tower, using the stairs, carrying a 49- pound hose pack. Drops the hose pack and performs event 10. Candidate then descends the tower, using the same stairs, to the first floor carrying the hose pack.
EVENT 10 - ATTIC CRAWL
Candidate crawls on hands and knees on the 4th floor of the tower for a distance of 60 feet. This will be done when candidate is performing event 9.
EVENT 11 - HOSE HOIST
Candidate will ascend to the 3rd floor of the tower, using the stairs, carrying 2 air bottles weighing 29 pounds (connected with a 2 foot strap). After dropping off the air bottles the candidate will then hoist up a 100 foot section of extended 1.75-inch hose line with nozzle, up and through the window, picking up the air bottles and descending the tower to the finish line, ending the test.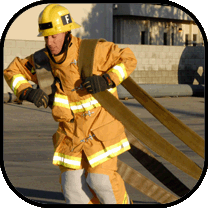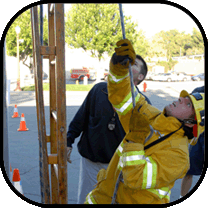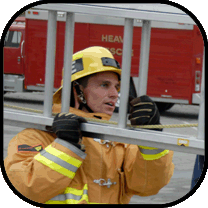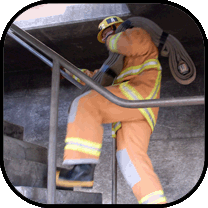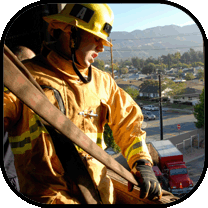 /